Apps: Utilities, Games, Lifestyle, Travel and more.
Apps for Mobile platforms
At BRiSK, we develop applications for various platforms and topics. Apps under development currently include travel, game, social and education/entertainment.
Following are the apps that have been released so far -


5Squared
- an iPad/iPhone/iPod Touch Board Game
---
Based on old, very popular board game
Features:
Number of players: 2 to 4
Goal of the game: move all your pieces from home square to the center square to win

Select-able: Different board and piece designs

play a quick game by selecting only one piece per player or full game by selecting 4 pieces

Enjoyed equally by kids and adults

Available on iPAD

Available from AppStore

The game consists of a board layout with 25 squares, arranged in 5x5 grid. There are four home squares, one each for a player.
The players start with all their pieces in their home square. Pieces move in anti-clockwise direction in the outer ring and clockwise
in the inner ring. Pieces are attack-able in the outer ring. Pieces are safe in any home square. If a piece moves to a square occupied
by another player's piece, and is not a home square, that piece is attacked and is sent back to its home square.
Screenshots:
Download on App Store: https://itunes.apple.com/us/app/5squared/id867381906?mt=8
---
carPix
car pictures and comparison on iPhone and iPad
---
Whether you are in the market for a new car, renting or just looking for new car offerings, you would like to get more details about a car model, its features, pictures, interiors, engine details etc. Maybe you want to compare two models side by side -
carPix is an iPhone & iPad app, which provides all these features.
features include:

Display pictures of cars - select Make and model




Compare two models. Along with viewing pictures, you can also compare models with various data




Color options




Engine Details




Ratings




True Market Value




True Market Value



MPG

Screenshots:
Download on App store: https://itunes.apple.com/us/app/carpix/id955093983?mt=8
Powered by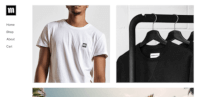 Create your own unique website with customizable templates.